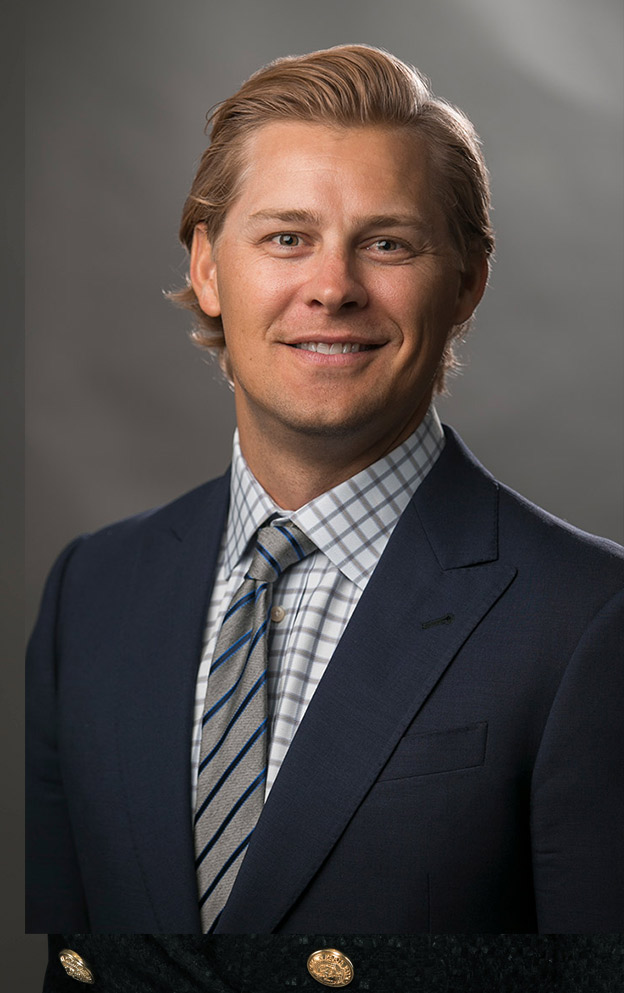 Kelly Largent
Director
Office Address
6120 S Yale Ave, Suite 300
Tulsa, OK 74136
United States
About Kelly
Kelly Largent joined Stan Johnson Company in 2018 and is a Director located in the corporate headquarters. He is actively representing institutional, private equity, developers and high net worth investors in the disposition and acquisition of a diverse mix of property types including industrial, office, retail and medical nationwide. Largent and his team leverage a vast transaction history that spans over a decade and more than $3.1 billion worth of net lease investment sales and 470+ transactions in over 40 states – including sale-leaseback, large portfolios and other structured transactions with many notable industry participants. Largent spearheads the team's medical focus and has utilized his demonstrated history of success in creating and developing long-term relationships with clients to expand the team's reach and market share.
With a client-first approach, Largent makes every situation a chance to provide value and leverages the collective expertise of his firm to a client's benefit. Relying on his medical and sales background, his core proficiencies lie in his deep understanding of the overall investment market and the healthcare sector, understanding and interpreting a client's primary objectives, negotiation of contracts, a client-centric work ethic and an appreciation of the inherent subtleties of net lease transactions.
Prior to joining Stan Johnson Company, Largent was a Regional Sales Manager for medical device giant, Zimmer Biomet (NYSE: ZBH), in their spine division overseeing in excess of $22 million in annual sales revenue in Oklahoma, Arkansas, Louisiana, and Mississippi. Prior to working for Zimmer Biomet, he was a sales consultant for many of the world's leading medical technology companies including Stryker (NYSE: SYK) and Globus Medical (NYSE: GMED) in Dallas, Texas. When Largent is not working, he enjoys spending time with his wife, Whitney and their three kids, and occasionally he gets to play golf, tennis or go hunting.
B.S. in Business Management, Oklahoma State University

International Council of Shopping Centers (ICSC)

Real Estate Broker's License - OK
Notable Deals
| Property | Location | State | Type | Sold Price |
| --- | --- | --- | --- | --- |
| USDA | Animal Plant Health Inspection Service | El Segundo, CA | CA | Office | $47,000,000.00 |
| Magan Medical Clinic | Covina, CA | CA | Healthcare | $39,456,600.00 |
| Department of Veterans Affairs - South Hillsborough Outpatient Clinic | Riverview, FL | FL | Healthcare | $29,472,000.00 |
| DaVita, Inc | Oakland, CA | CA | Healthcare | $14,275,000.00 |
| Amazon Last-Mile Distribution Center | San Antonio, TX | TX | Industrial | $13,060,000.00 |
| Prairie View Business Center | Kansas City, MO | MO | Office | $11,720,000.00 |
| GSA | Sarasota, FL | FL | Office | $11,000,000.00 |
| Village Medical Plaza | Fayetteville, NC | NC | Office | $9,550,000.00 |
| GSA/SSA - OHO Hearing Office | Grand Rapids, MI | MI | Office | $8,855,300.00 |
| Atlanta South Multi-Tenant Office Buildings | Atlanta, GA | GA | Office | $7,950,000.00 |
| National Park Service | Bayfield, WI | WI | Office | $7,750,000.00 |
| Walgreens | Franklin Park, IL | IL | Retail (ST) | $7,280,000.00 |
| U.S. Bureau of Land Management | El Dorado Hills, CA | CA | Office | $6,750,000.00 |
| CVS Pharmacy | Philadelphia, PA | PA | Retail (ST) | $6,677,777.00 |
| Montana Department of Revenue | Helena, MT | MT | Office | $6,300,000.00 |
| Rite Aid | Greensburg, PA | PA | Retail (ST) | $5,733,685.00 |
| DaVita, Inc | Lawrenceville, GA | GA | Healthcare | $4,779,607.00 |
| DaVita Dialysis | DaVita Medical Group | Tampa, FL | FL | Healthcare | $4,675,844.00 |
| Avadyne Health | Moline, IL | IL | Office | $4,325,000.00 |
| DaVita, Inc | Corpus Christi, TX | TX | Healthcare | $4,265,185.00 |
| DaVita, Inc | Coos Bay, OR | OR | Healthcare | $4,125,000.00 |
| Anthony Machine (Sale Leaseback) | San Antonio, TX | TX | Industrial | $3,775,000.00 |
| DaVita, Inc | Dearborn, MI | MI | Healthcare | $3,625,794.00 |
| Fresenius Medical Care | Farmington, MO | MO | Healthcare | $3,304,000.00 |
| Fresenius Medical Care | Albuquerque, NM | NM | Healthcare | $2,600,000.00 |
| U.S. Renal Care | Mission, TX | TX | Healthcare | $2,380,000.00 |
| Fresenius Medical Care | Cleburne, TX | TX | Healthcare | $2,336,637.00 |
| Knowledge Beginnings | Littleton, CO | CO | Retail (ST) | $2,100,000.00 |
| Hogan Dedicated Services | Waco, TX | TX | Retail (ST) | $1,707,000.00 |