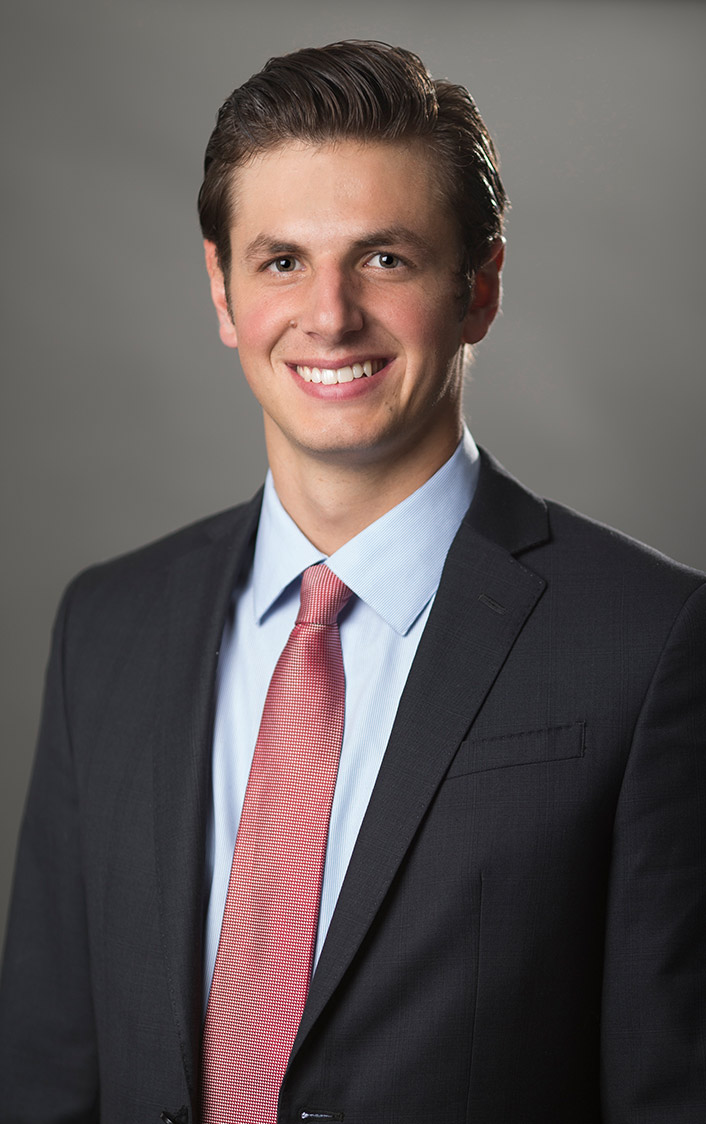 Mackenzie Wolfgram
Associate
Office Address
303 E Wacker Dr, Suite 1111
Chicago, IL 60601
United States
About Mackenzie
Mackenzie Wolfgram is an associate in Stan Johnson Company's Chicago office. He joined Stan Johnson Company in 2016 as an analyst, assisting multiple brokers nationwide with financial analysis, lease abstracting, property marketing, and critical market research.
Wolfgram quickly mastered the analyst role and joined Brandon Duff & Tom Fritz in an associate capacity, focusing on deal execution. He leverages his strong analytical background, relentless work ethic, and a detail-oriented approach to each deal to provide clients with a smooth, efficient execution process.
Prior to his work as an analyst, Wolfgram held an internship at Stan Johnson Company's headquarters in Tulsa, OK, where he honed his analytical skills and gained experience in the net lease world.
International Council of Shopping Centers (ICSC)    

University of Michigan, B.A. – Economics, Business
Notable Deals
| Property | Location | State | Type | Sold Price |
| --- | --- | --- | --- | --- |
| Sam's Club Portfolio of 16 | Various, IL | IL | Retail (ST) | $172,500,000.00 |
| Monterey Net Lease Vineyard Portfolio | Monterey County, CA | CA | Land | $48,450,000.00 |
| Mariano's Fresh Market Portfolio of 2 | Various | IL | Retail (ST) | $46,320,492.00 |
| FedEx Ground | Raleigh-Durham, NC | NC | Industrial | $44,943,802.00 |
| Skokie Commons | Skokie, IL | IL | Retail (MT) | $43,750,000.00 |
| Banner Life Headquarters | Frederick, MD | MD | Office | $38,200,000.00 |
| Luminaire Los Angeles | West Hollywood, CA | CA | Retail (ST) | $36,200,000.00 |
| Walmart | Howell, MI | MI | Retail (ST) | $20,590,000.00 |
| The Shops at Abilene Village | Abilene, TX | TX | Retail (MT) | $20,100,000.00 |
| ABC Labs | Columbia, MO | MO | Special Purpose | $18,300,000.00 |
| Best Buy (Bonded NNN Master Lease) | Newport News, VA | VA | Retail (ST) | $17,743,044.00 |
| Acme Markets (Ground Lease) | Philadelphia, PA | PA | Retail (ST) | $14,500,000.00 |
| KeHE Foods Distribution Center | Elkton, FL | FL | Industrial | $14,500,000.00 |
| Target | Skokie, IL | IL | Retail (ST) | $13,850,000.00 |
| Walgreens | Bayamon, Puerto Rico | Puerto Rico | Retail (ST) | $11,500,000.00 |
| CVS Pharmacy | Lynnwood, WA | WA | Retail (ST) | $10,718,091.00 |
| Chase Bank (Ground Lease) | Barrington, IL | IL | Retail (ST) | $10,600,000.00 |
| Carmike Cinemas at Myrtle Beach Mall | Myrtle Beach, SC | SC | Retail (ST) | $9,621,000.00 |
| National Weather Service Office (GSA) | Chanhassen, MN | MN | Office | $8,640,000.00 |
| Portillo's | Deerfield (Chicago), IL | IL | Retail (ST) | $7,033,000.00 |
| Maxim Crane Works (Industrial Outdoor Storage) | Hubbard, OR | OR | Industrial | $6,200,000.00 |
| Maxim Crane Works (Industrial Outdoor Storage) | La Vergne, TN | TN | Industrial | $6,000,000.00 |
| Lucid Motors (Industrial Service Facility) | Riviera Beach, FL | FL | Industrial | $5,950,000.00 |
| Gamma Engineering (Sale Leaseback) | Mansfield, TX | TX | Industrial | $5,500,000.00 |
| The Learning Experience | Mt Juliet, TN | TN | Retail (ST) | $4,875,000.00 |
| Skokie Commons | Bank of America | Skokie, IL | IL | Retail (MT) | $4,750,000.00 |
| Mariano's Fresh Market - Parking Lot (Ground Lease) | Vernon Hills, IL | IL | Retail (ST) | $4,237,600.00 |
| Chase Bank (Ground Lease) | Yorkville, IL | IL | Retail (ST) | $3,844,660.00 |
| Chase Bank | Alsip, IL | IL | Retail (ST) | $3,398,058.00 |
| Chase Bank (Ground Lease) | Palos Heights, IL | IL | Retail (ST) | $2,912,621.00 |