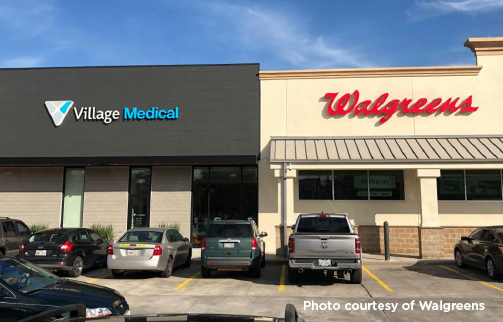 July has been a busy month for Walgreens Boots Alliance. On Tuesday, July 7, 2020, the company announced a $1.0 billion investment into VillageMD, which by itself would have been big news. However, they also indicated that as part of the investment, Walgreens would be opening 500 to 700 physician-staffed clinics inside their locations across 30 markets over the next five years.
Two days later, Walgreens Boots Alliance announced their third quarter 2020 earnings, which included the headline-making news of substantial negative operating income caused by COVID-19. These twin announcements were noteworthy in that they extend beyond the ramifications for Walgreens and have broader implications across the retail and net lease marketplace. Here, we explore how the partnership with VillageMD coupled with the company's latest earnings report may impact commercial real estate investors.
"Plans call for Walgreens to equip up to 700 stores across 30 markets with VillageMD-branded, physician-staffed primary care clinics over the next five years."
Walgreens' Latest Financial Performance
Financial results announced by Walgreens a few weeks ago included a profound impact by COVID-19 resulting in $700 to $750 million of negative operating income. The impact to the business was not a matter of fewer shoppers coming into their stores or lower sales, which typically would be the cause. Rather, the majority of the financial hit was a byproduct of customers buying lower profit margin purchases as well as a slowdown in prescription sales growth.
Walgreens' financial data shows that COVID-19 has temporarily altered consumer behavior, but perhaps more interestingly, they've indicated the impact could be felt long-term. "We…believe that it is highly likely that certain aspects of customer behavior may change permanently," Walgreens stated on their most recent earnings conference call. Such a comment, while the marketplace is still gauging the fallout from the pandemic, is quite striking.
In response to their latest earnings report, it's clear that Walgreens will continue with cost savings initiatives that it has aggressively pursued over the past few years. "We are also accelerating our Transformational Cost Management Program, a strong focus on controlling and reducing costs," Walgreens stated. "It's even more important now. Investing the savings to drive future growth is one of our top priorities."
Walgreens continued by saying, "We are increasing our savings target to an excess of $2.0 billion in annual cost savings by fiscal 2022, reflecting continued momentum and better line of sight to savings. Our store closure program is broadly on-track."
Although it's no secret that Walgreens has been among the many retailers strategically closing underperforming stores, current landlords and the overall net lease marketplace will obviously pay attention to this statement as they consider what it could mean for how Walgreens views occupancy costs and rents going forward.
VillageMD Investment & Partnership
Arguably of greater importance than the latest fiscal quarter numbers was Walgreens' announcement of the $1.0 billion investment in VillageMD, which valued the startup at $3.3 billion. Plans call for Walgreens to equip up to 700 stores across 30 markets with VillageMD-branded, physician-staffed primary care clinics over the next five years. This move positions Walgreens to aggressively compete with its primary competitor, CVS Pharmacy, and potentially emerge as the leader in the "doc-in-a-box" segment of the market, further solidifying the fusion of retail and medical.
"Our goal is to provide an integrated primary care and pharmacy model that will drive better health outcomes, reduce costs and provide a differentiated patient experience to the communities we serve," Walgreens said in a statement. "These doctor-led clinics located at Walgreens pharmacies will provide comprehensive primary care services and will focus on developing relationships with patients to manage their long-term conditions."
After the initial five-year rollout period, Walgreens indicated that another several hundred clinics could be built in a second phase across 20 additional U.S. markets. But physical growth isn't the only focus. "Very importantly, beyond the physical locations, we will be developing home-based monitoring and telemedicine services, leveraging VillageMD's integrated data and technology under our own Find Care platform," Walgreens announced. "We remain convinced that our stores are beautifully placed as forward distribution hubs and in communities. And we're now investing to make sure as people – more and more – move to omnichannel ways of getting their goods and services, including healthcare, we are absolutely convinced our investment strategy will come through strongly in the years ahead."
Impact on the Net Lease Marketplace
Both Walgreens and CVS Pharmacy have seen increasing headwinds in their core pharmacy business in recent years as trends have shifted and the threat of new competitors has risen, including Amazon's recent acquisition of PillPack. Walgreens' partnership with VillageMD, however, goes a step further than CVS Pharmacy's HealthHUB initiative, of which 1,500 were announced a year ago, that relies on a care concierge to direct customers to providers like nurse practitioners and medical supplies. Walgreens has upped the ante for the evolution of the pharmacy/medical business and, notably for the net lease segment, will offer a much "stickier" tenant.
From a valuation perspective, this development in conjunction with CVS Pharmacy's HealthHUB, could represent the advent of a new net lease segment called "medi-tail" – a unique fusion of both retail and medical that positions tenants to thrive in the new paradigm of the online retail world. It's very possible that such assets and enhanced locations could command a significant premium to traditional locations and be highly sought after by investors as a hedge against a shifting retail landscape.