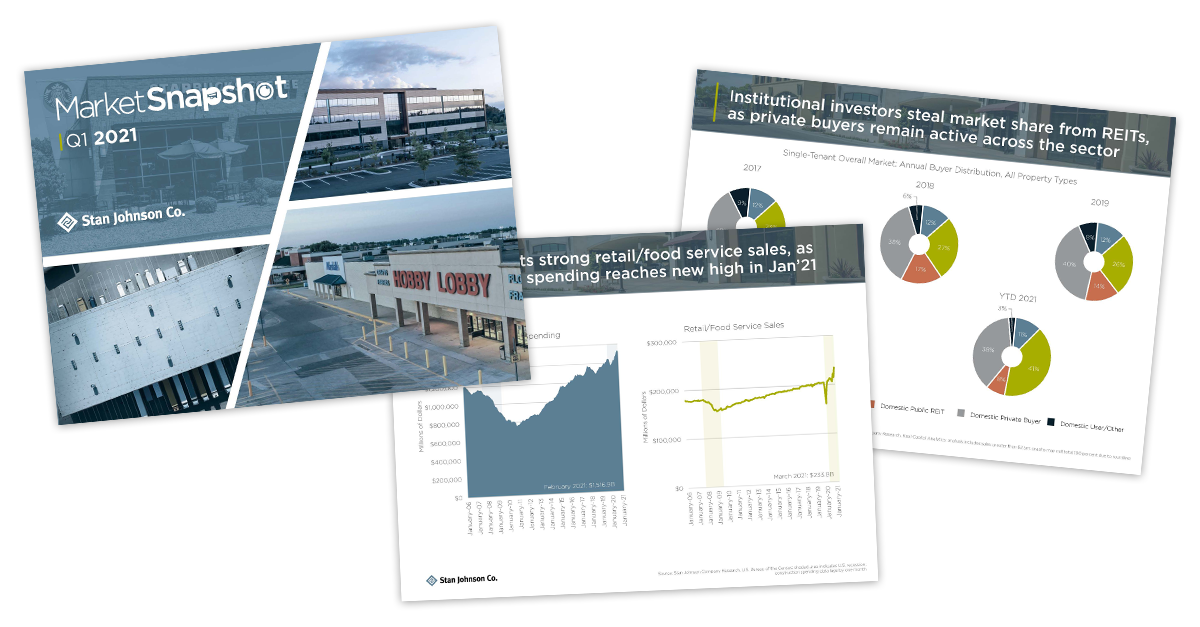 Market data, charts & graphs of current and historical trends across single-tenant office, industrial and retail properties, as well as multi-tenant retail

Overall market trends

Market summary & analysis

Economic data points
Emerging trends across STNL and multi-tenant retail sectors provide glimpse into Q1'21 figures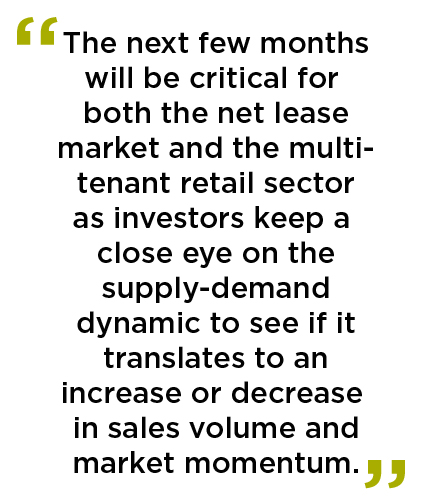 Occasionally, data doesn't tell the entire story, and first quarter 2021 illustrates that well. If sales volume totals across the single-tenant net lease market are studied on their own, investor demand appears to have declined significantly in the last three months. Investment sales were down 37.2 percent from fourth quarter 2020's reported $23.5 billion in sales, and first quarter 2021 market activity - at $14.8 billion - appears more in line with totals reported at the beginning of the pandemic. Despite what the numbers suggest, the single-tenant net lease market is actually performing with greater consistency. A rush of closings occurred in late 2020, helping to drive year-end totals much higher than anticipated. But in doing so, the first quarter's pipeline was drastically reduced, and closings in February and March slowed. If activity is instead averaged out, the last six months are more on par with pre-pandemic levels reported in the second half of 2019 and more accurately reflect today's market conditions.
The last year, however, has resulted in shifting market dynamics, leaving investors to wonder which will impact future market conditions, and to what extent. Internet-resistant tenants are still favored by investors, but pandemic conditions and restrictions have shed new light on retailers deemed "essential," catapulting them to the top of investors' must-have lists. Additionally, and despite the perceived 50 percent decline in quarterly activity, industrial product remains in very high demand with both private buyers and institutional investors. There is strong activity in virtually every industrial subset, from cold storage to last mile distribution facilities, and properties across the country are being acquired at a fast clip. The office market is shifting as well, and a cloud of uncertainty continues to hang over the sector. Will the past year's work-from-home trend result in long-term investor skepticism? Or as companies begin announcing return-to-office plans, will it translate to a jump in investor demand?
Supply remains tight across the single-tenant net lease market, but this trend is perhaps even more pronounced in the multi-tenant retail sector. Like the rest of the market, multi-tenant retail witnessed a significant slow-down when the pandemic hit. Three of the last four quarters have been the sector's lowest in 10 years, but demand is anything but absent. In the past year, the market has seen grocery anchored shopping centers emerge as one of the hottest product types. Power centers with essential retail anchors are in high demand and, due to lack of recent construction, supply remains quite low. Smaller, unanchored strip centers are also providing investors with opportunity, especially as the pandemic influences demographic shifts. The next few months will be critical for both the net lease market and the multi-tenant retail sector as investors keep a close eye on the supply-demand dynamic to see if it translates to an increase or decrease in sales volume and market momentum.