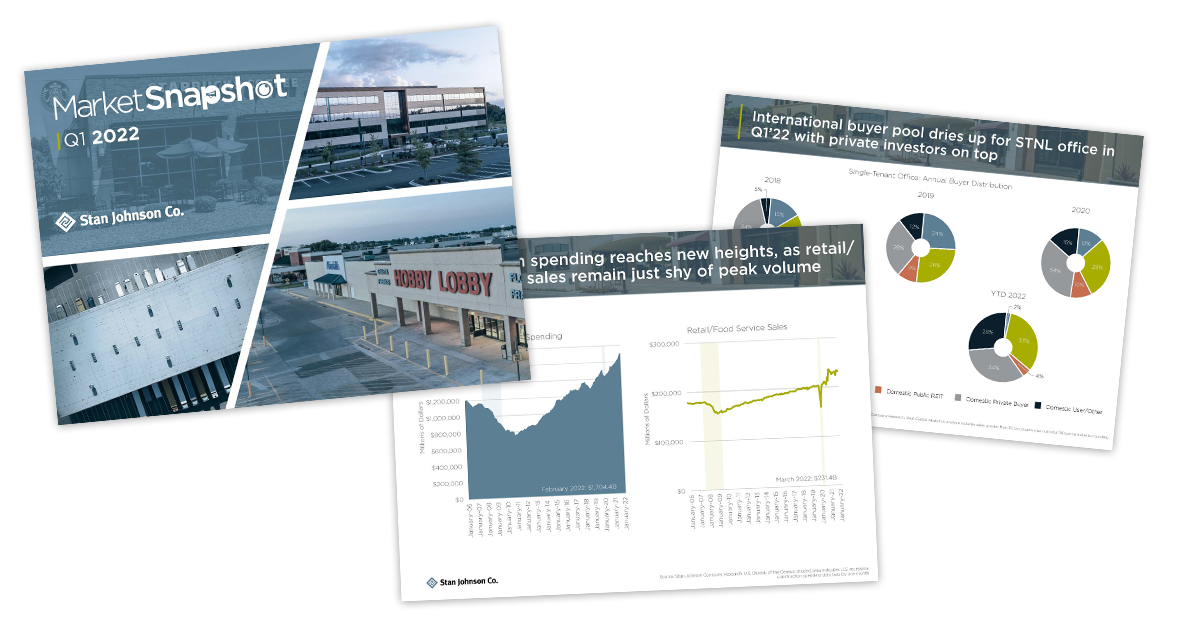 Market data, charts & graphs: current and historical trends for single-tenant office, industrial and retail properties, as well as multi-tenant retail

Overall market trends

Market summary & analysis

Economic data points
Following a record-setting 2021 with unprecedented levels of investment sales activity in the final quarter of the year, there was no expectation that the single-tenant net lease market was positioned for back-to-back quarters of such volume. Instead, predictions called for just enough carried momentum to position the market well enough to have a respectable follow­up year. Despite current headwinds - with inflation raging and interest rates rising - the market delivered on those predictions for the most part. It is highly unlikely and perhaps even impossible that we'll see 2022's activity reach or surpass the nearly $103 billion reported last year, but we had a healthy start. Overall, the net lease market reported approximately $21.7 billion in sales volume during first quarter 2022. While it's a decrease of about 50 percent quarter-to-quarter, this was a very strong showing of above average quarterly volume which points to continued buyer demand.
By sector, the industrial net lease market continued to drive the bulk of investment activity, contributing $11.4 billion, or more than half of the quarter's overall total. The office sector, powered by Google's high-profile purchase of a single-asset Manhattan office building for a reported $1.9 billion, logged nearly $6.9 billion in total. Even without the Google transaction, the single-tenant office sector would have come close to meeting its historic average, indicating investor confidence has rebounded from the height of the pandemic when the future of office use was much more uncertain. The single-tenant retail sector experienced the most significant quarter-to-quarter decline in activity, with just $3.3 billion in sales. Down approximately 66 percent from fourth quarter 2021, activity in the retail sector fell more in line with demand levels we've seen in recent years.
The multi-tenant retail sector is coming off a strong year as well, although 2021 wasn't record-setting Still, with nearly $14.0 billion in sales reported for first quarter 2022, investor demand has grown substantially since the pandemic began and the last 12 months of activity has been incredibly encouraging for the sector.