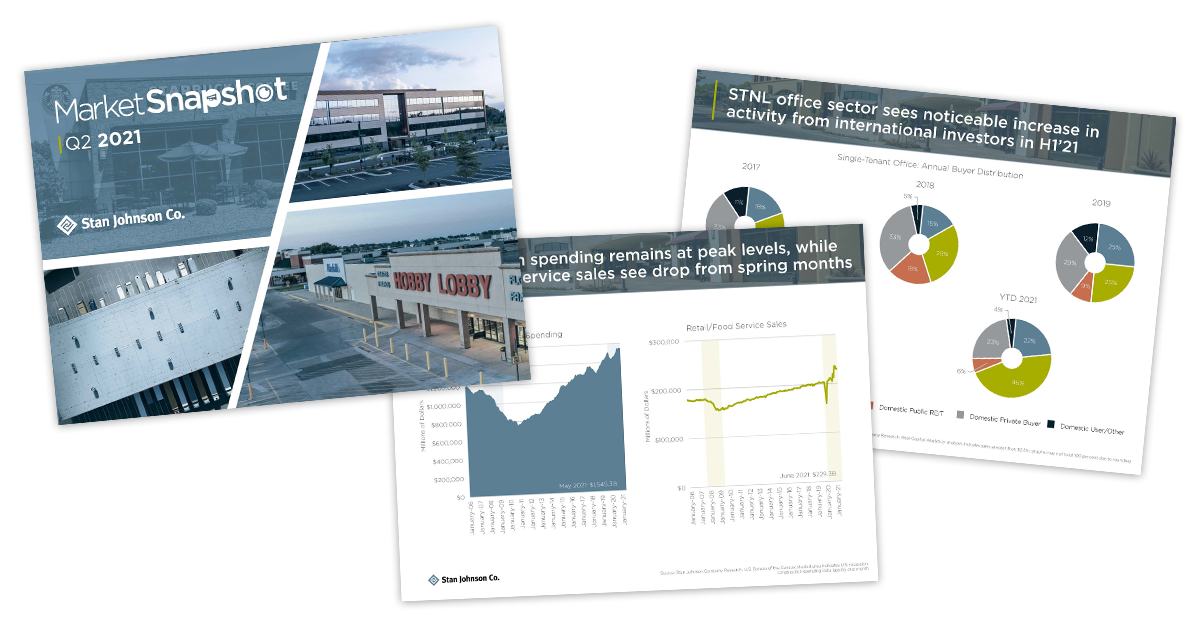 Market data, charts & graphs of current and historical trends across single-tenant office, industrial and retail properties, as well as multi-tenant retail

Overall market trends

Market summary & analysis

Economic data points
Constrained supply suppresses investment volume across STNL market and multi-tenant retail sector
The single-tenant net lease market had a near repeat performance in second quarter 2021, barely outpacing first quarter's sales activity. With $16.5 billion reported in the last three months, sales volume increased a meager 0.4 percent. This quarter-to-quarter consistency bodes well for a recovering market, yet many were hopeful we'd witness a noticeable uptick in activity as mid-year approached.
The multi-tenant retail sector, on the other hand, didn't fail to deliver. Despite activity remaining stunted from pre-pandemic levels, we saw a 54 percent quarter-to-quarter increase in sales, as the sector reported more than $9.1 billion in total volume for second quarter 2021.
For the single-tenant net lease market, as well as the multi-tenant retail sector, constrained supply continues to be a significant influence on investment sales activity. Buyer demand is substantial, but the amount of supply available continues to be extremely low. Off-market sales are prevalent and the listing timeline for the highest quality assets is often much shorter than the historical average.
As we enter the second half of the year, market conditions are unlikely to change drastically. The low interest rate environment continues to motivate buyers, but without an uptick in available supply, investor demand simply can't translate to increased market activity.