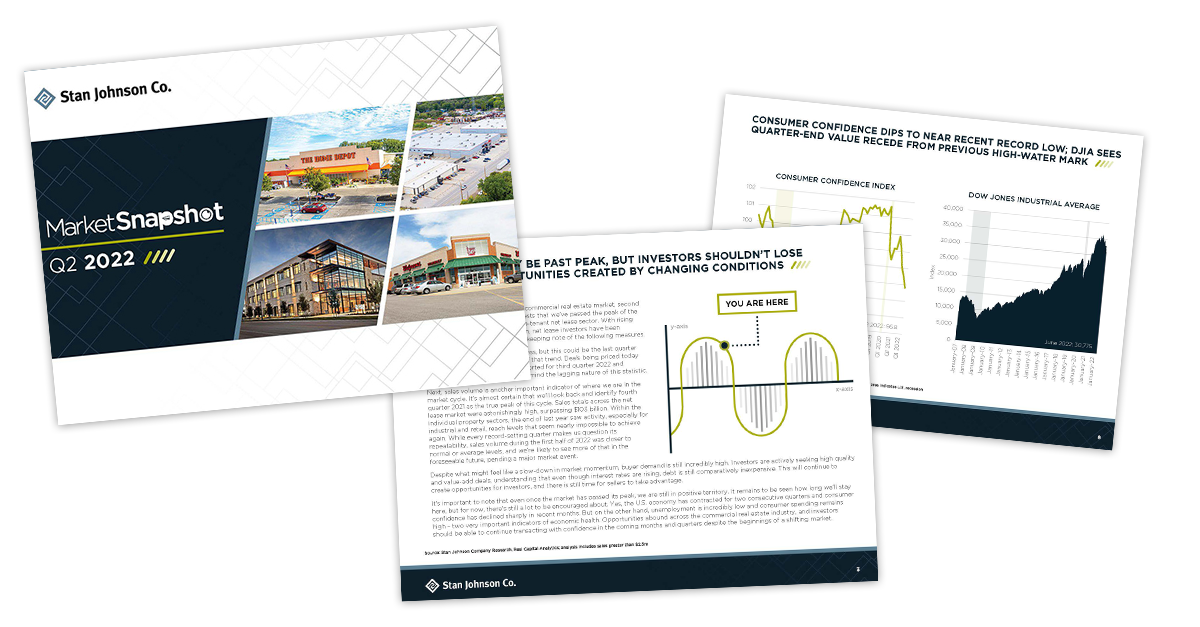 Market data, charts & graphs: current and historical trends for single-tenant office, industrial and retail properties, as well as multi-tenant retail

Overall market trends

Market summary & analysis

Economic data points
To download a copy of this report, please provide the following information:
On the s-curve that is the cyclical commercial real estate market, second quarter 2022's performance suggests that we've passed the peak of the market, especially within the single-tenant net lease sector. With rising interest rates and rampant inflation, net lease investors have been watching the market very closely, keeping note of the following measures.
First, cap rates continue to compress, but this could be the last quarter before we start to see a reversal of that trend. Deals being priced today will influence closing cap rates reported for third quarter 2022 and beyond, so investors must keep in mind the lagging nature of this statistic.
Next, sales volume is another important indicator of where we are in the market cycle. It's almost certain that we'll look back and identify fourth quarter 2021 as the true peak of this cycle. Sales totals across the net lease market were astonishingly high, surpassing $103 billion. Within the individual property sectors, the end of last year saw activity, especially for industrial and retail, reach levels that seem nearly impossible to achieve again. While every record-setting quarter makes us question its repeatability, sales volume during the first half of 2022 was closer to normal or average levels, and we're likely to see more of that in the foreseeable future, pending a major market event.
Despite what might feel like a slow-down in market momentum, buyer demand is still incredibly high. Investors are actively seeking high quality and value-add deals, understanding that even though interest rates are rising, debt is still comparatively inexpensive. This will continue to create opportunities for investors, and there is still time for sellers to take advantage.
It's important to note that even once the market has passed its peak, we are still in positive territory. It remains to be seen how long we'll stay here, but for now, there's still a lot to be encouraged about. Yes, the U.S. economy has contracted for two consecutive quarters and consumer confidence has declined sharply in recent months. But on the other hand, unemployment is incredibly low and consumer spending remains high – two very important indicators of economic health. Opportunities abound across the commercial real estate industry, and investors should be able to continue transacting with confidence in the coming months and quarters despite the beginnings of a shifting market.