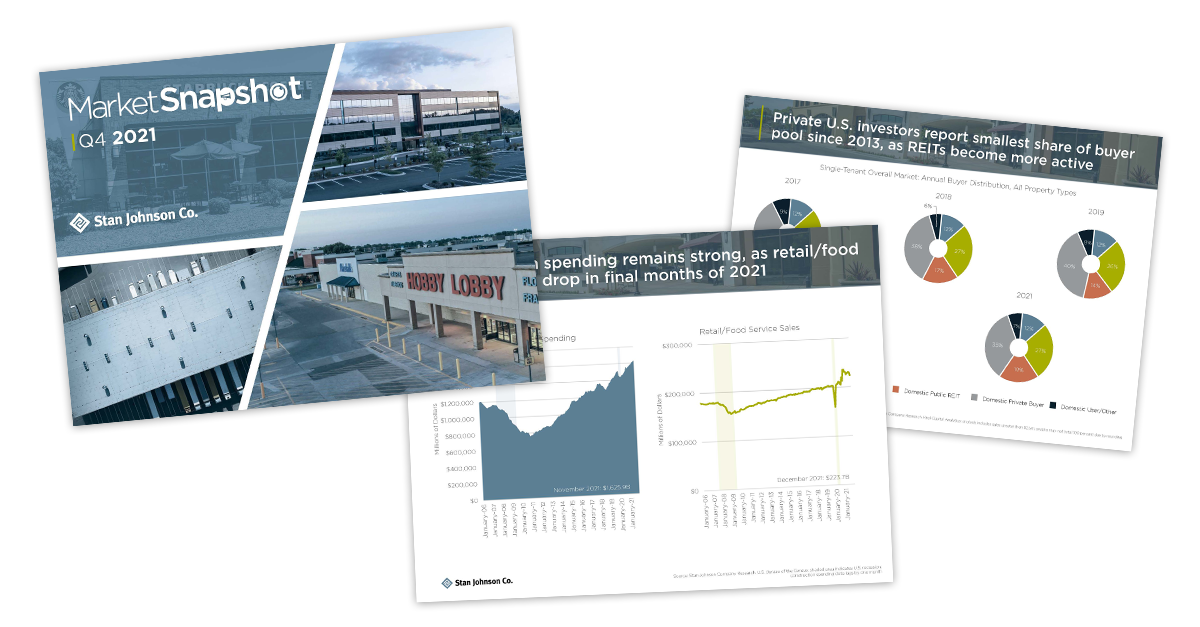 Market data, charts & graphs of current and historical trends across single-tenant office, industrial and retail properties, as well as multi-tenant retail

Overall market trends

Market summary & analysis

Economic data points
More often than not, the final quarter of the year is the strongest. When investors make a push to place dollars before year-end, the resulting level of activity can be significant, and 2021 did not disappoint. Not only did the single-tenant net lease market report its strongest quarter of investment sales activity in history during the final three months of the year, but it outpaced the previous high-water mark by more than 46 percent. An astounding $36.3 billion in sales were reported during fourth quarter 2021, driving annual totals north of $96.5 billion and setting a new annual sales record for the single-tenant sector.
The multi-tenant retail sector also reported incredibly healthy levels of investment activity during fourth quarter, logging more than $22.5 billion in sales volume. This marks the strongest quarter in more than three years, as well as the second strongest quarter in history. With reduced demand for many subsets of multi-tenant retail in the quarters following the peak of the pandemic, investors seem to have rediscovered the asset class in the last six months. Renewed confidence in the sector is driving strong momentum going into 2022, although the entire market continues to see issues with supply.
Along with other factors, the lack of available supply has impacted cap rates across the industry. In the net lease space, we've seen additional cap rate compression in the industrial and retail sectors quarter-to-quarter as well as year-over-year. In fact, industrial cap rates have compressed so significantly, it's difficult to imagine they could go much lower than the current average of 5.59 percent. Single-tenant retail cap rates, after being stagnant for years, finally saw the average dip below the 6.0-percent mark, reaching 5.95 percent at year-end. Only the net lease office sector reported higher year-over-year cap rates, ending 2021 at 6.27 percent, although a four-basis-point increase is hardly noteworthy. Similarly, multi-tenant retail has seen cap rates fluctuate minimally in recent years. Currently at 6.83 percent, rates have only seen a 10-basis-point swing in the last three years and aren't projected to waver much in 2022.