Fast food restaurants, also known as quick service restaurants (QSRs), continue to be in high demand with net lease real estate investors. The sector's essential status during the pandemic has led to increased demand from consumers as well, and many concepts are projecting growth in the coming years. With brands expanding to meet the needs of their customers, companies are also thinking creatively about new layouts, amenities, and functionality. As we see robust store growth from many QSR brands in 2021 and beyond, savvy investors will be well positioned to capitalize on a wave of newly constructed, high-quality assets with long-term leases in place, featuring the latest creative designs focused on efficient customer service.
Drive-Thru Lanes: A Feature That's Driving QSR Demand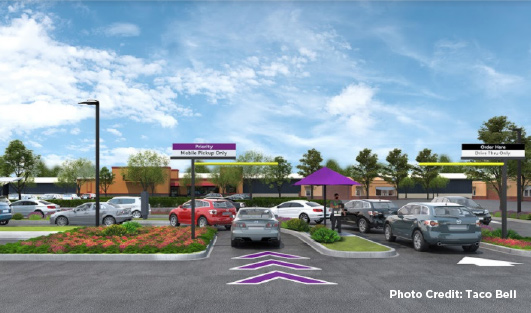 Investor demand for QSRs continues to be quite strong, especially for assets with drive-thru lanes. Virtually all concepts had to react quickly to a shifting environment back in March, which resulted in most QSRs closing their dining rooms completely and instead focusing on drive-thru and carryout volume. Fast-forward a few months, and many brands including Taco Bell, KFC and Burger King, are exploring new store concepts with double and triple drive-thru lanes. Other restaurants, like Chipotle and Shake Shack, that historically have been dine-in and carryout only, plan to incorporate drive-thru lanes into future builds. These revised concepts will put a strong focus on servicing higher volumes of traditional drive-thru traffic at a faster rate, as well as more efficient mobile ordering fulfillment.
As reported in Stan Johnson Company's most recent Tenant Expansion Trends Report, which was published in Fall 2020, the following brands are examples of QSRs with stated growth plans as well as new, creative concepts for their future restaurant layouts:
| | |
| --- | --- |
| | In the coming years, Chipotle plans to double their store count, reaching more than 5,000 units. In second quarter 2020, they opened 37 new locations – 21 of which included a new "Chipotlane," which is the company's drive-thru concept that allows customers to easily place and pick up mobile orders. |
| | |
| --- | --- |
| | A significant initiative to remodel existing U.S. restaurants should be completed by year-end 2020. The focus has been on restaurant modernization with a new store design that leverages technology, including touchscreen ordering kiosks. |
| | |
| --- | --- |
| | RBI Inc., parent company of Burger King, Popeyes and Tim Hortons, plans to reach a goal of 40,000 locations across all brands in the next eight to ten years. They recently unveiled two new, smaller restaurant designs for Burger King that will include multiple drive-thru lanes. |
| | |
| --- | --- |
| | Strong growth is planned over the coming years, with 35 to 40 new restaurants to open in 2021. The company, which has not incorporated drive-thru lanes into their restaurants before, announced a new design that could feature up to three lanes that will accommodate mobile order pick-up and traditional drive-thru orders. |
| | |
| --- | --- |
| | Traditionally a drive-in concept, Sonic recently unveiled a new restaurant design called Delight" and is looking to grow by 1,000 new locations over the next ten years. |
| | |
| --- | --- |
| | Despite flat store growth in 2020, the brand is planning to build a new restaurant concept that would be half the traditional restaurant size and feature multiple drive-thru lanes. |
| | |
| --- | --- |
| | Early in 2020, Wendy's reported that its digital orders were increasing, and 90 percent of its sales were now coming via drive-thru customers. The company recently announced considering a drive-thru-only restaurant concept and will be testing prototypes. |
QSR Cap Rate Trends: Where We're Seeing Growth and Compression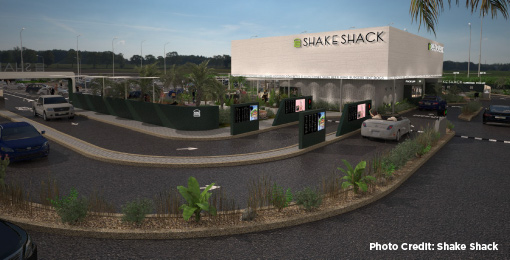 Across the QSR sector, average cap rates are, in many cases, the lowest they've ever been. For tenants with the strongest credit, it's not uncommon to see individual properties transact at sub-4.0 percent cap rates. In fact, there have been six concepts, including Chick-fil-A, Starbucks, and McDonald's, that have traded in the last 12 months with individual cap rates in the 3.0-percent-range. At the other end of the spectrum, shifting market conditions have contributed to rising cap rates across certain brands that may now be perceived as riskier investments.
Average cap rates have compressed across a few brands this year…

…while some tenants are experiencing rising cap rates…

…and others have seen little or no movement in average cap rates this year.

QSRs Trading at an Average Cap Rate of 4.0-4.9% in Fall 2020

QSRs Trading at an Average Cap Rate of 5.0-5.9% in Fall 2020

QSRs Trading at an Average Cap Rate of 6.0-6.9% in Fall 2020

Source: Stan Johnson Company Research, retailer websites, and public news articles; cap rate methodology includes single-tenant sale transactions with reported cap rates for a rolling 12-month period and is limited to properties with 10+ years of lease term remaining. Information is deemed accurate but not guaranteed. Tenant expansion data was gathered between Sept-Nov 2020 and may have changed by the date of this publication.